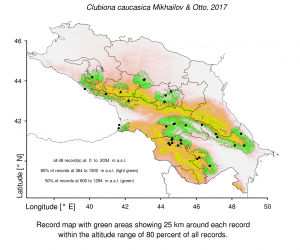 Starting now in August 2017, the database will be updated in shorter intervalls with versionnumbers giving month and year, e.g. 08.2017. This should allow (and motivate) me to work on the database more often, not only in a bulk action every two years or so.
Version 08.2017 includes the newly described Clubiona caucasica Mikhailov & Otto, 2017 in the checklist Caucasus and excludes Clubiona caerulescens L. Koch, 1867, which can easily be confused with C. caucasica and has not yet actually been recorded from the Caucasus.
View all records of the new species and download the PDF from here.